DeHamer Landscaping is your full service lawn care company. Mowing, fertilizer, perimeter pest, mosquito spray, aeration. Let us know how we can help make your lawn beautiful this year.
Our Lawn Care Program provides the proper blend of nutrients to provide a green, lush, and thick lawn all season long. This program includes balanced, non-burning lawn fertilization and liquid weed control. We also use an environmentally friendly, non-phosphorus fertilizer to protect nearby rivers, lakes and streams. We have over 50 years experience on Michigan soil so we know precisely how to care for your lawn.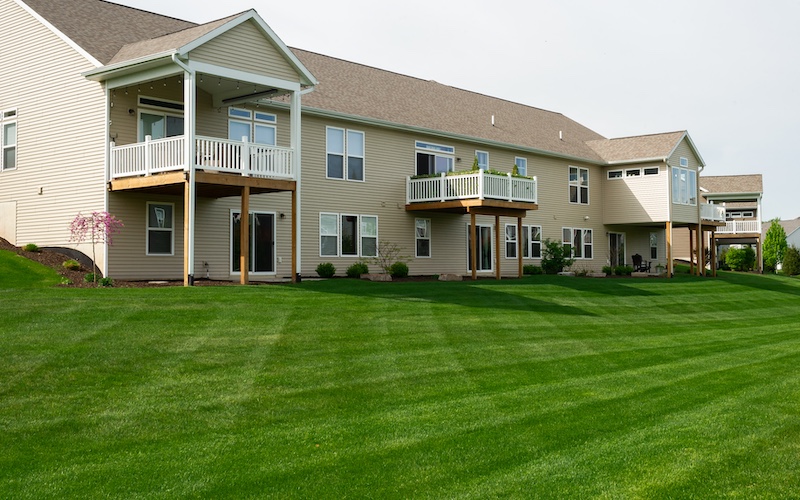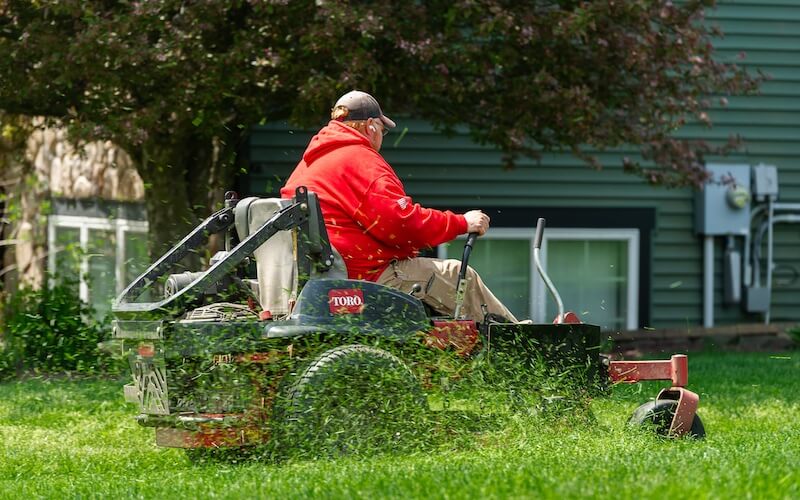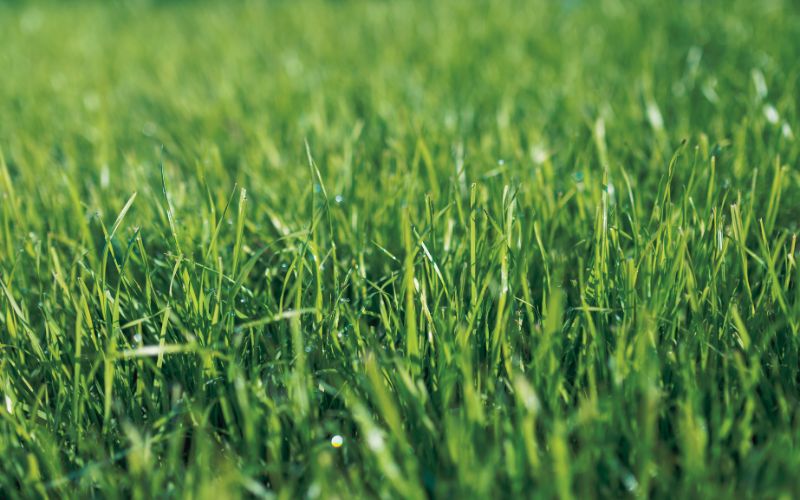 At DeHamer Landscaping our fertilizer is a unique blend of organic and synthetic fertilizer. This provides your lawn with iron which gives the grass a rich, dark green color without excessive growth. It also releases slowly and feeds the lawn not by feeding the plants, but by enriching the soil.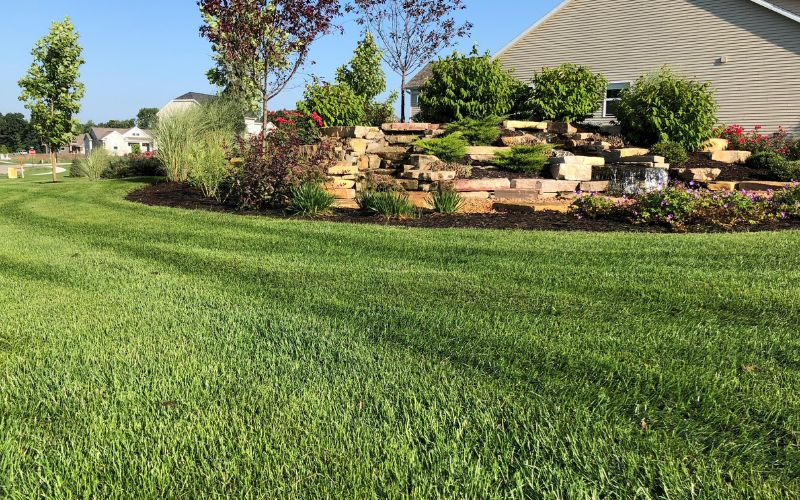 We pride ourselves on our excellent weed control. Prompt spring crabgrass control is especially important to keep pesky crabgrass from appearing in the summer. Our professional weed control also works great on over 60 types of weeds, including difficult weeds like clover and creeping charlie. Our weed control is absorbed by the weeds in minutes, so rain and sprinkling will not affect it once it dries.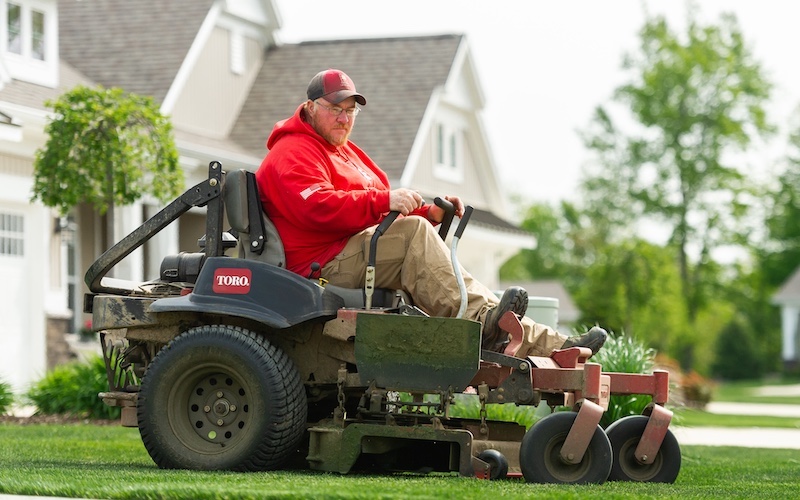 We offer commercial lawn mowing services and take pride in our mowing services. A great crew, the right equipment and attention to detail … discover the #DeHamerDifference for yourself.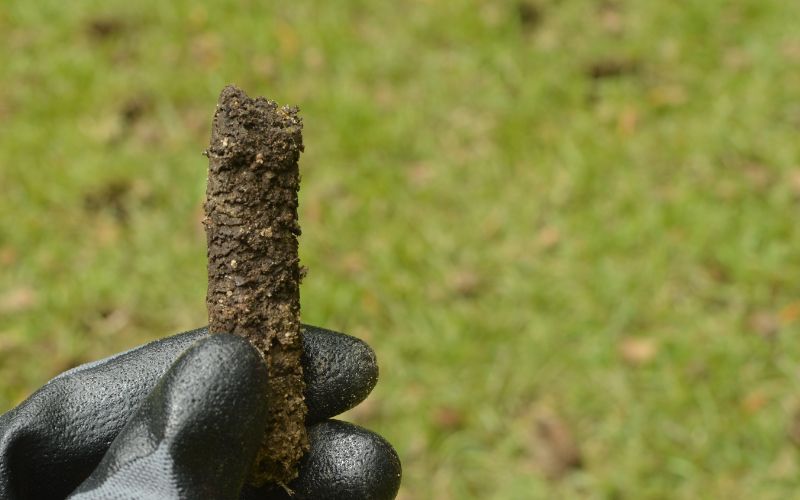 Our core aeration removes small plugs of soil from the lawn. These cores break down and redistribute valuable nutrients to the soil. The holes left in the lawn provide passageways for air, water, and nutrients. to reach the roots. As the soil and roots expand to fill the holes, the surrounding soil is allowed to loosen, reducing compaction. Larger, stronger roots result in grass that is thicker and more drought resistant. This is the single most important thing you can do to maintain a beautiful lawn.
Grub Preventative Service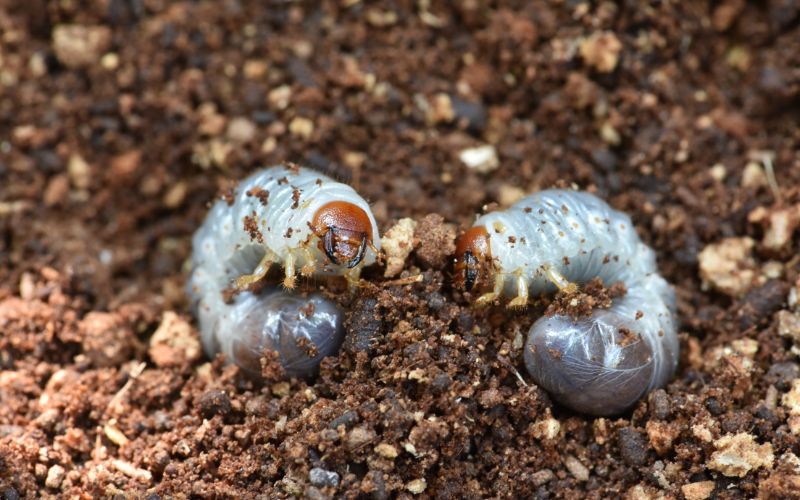 Lawn grubs damage a lawn by devouring its root system. Merit grub control is extremely effective, attacking the summertime eggs that hatch into lawn destroying grubs. Grubs also draw predators to a lawn such as skunks, raccoons, birds and moles. Merit grub control works so well, that we include a 100% guarantee. Merit is applied once per year during June, July, and early August.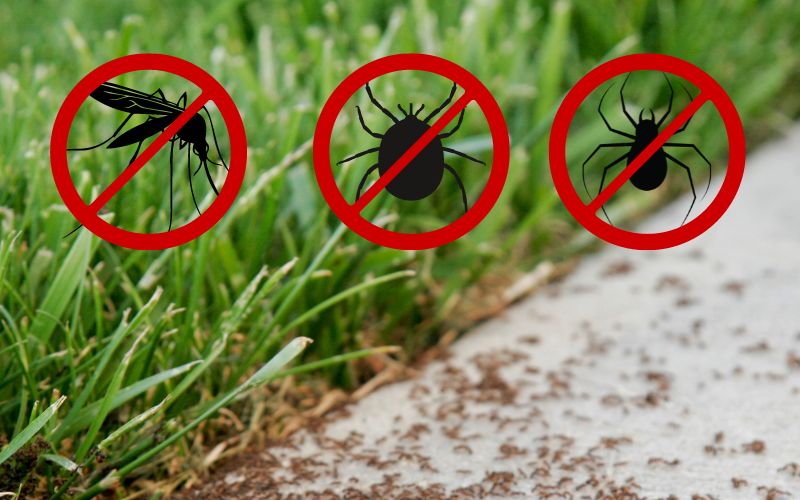 This outdoor spraying program controls spiders, wasps, hornets, fleas, ticks, ants, and dozens of other creepy crawling insects that invade the outside of your home and garage. We spray around the foundation of your home, behind shutters, under decks, behind basketball hoops, under eves, inside play equipment and many other places where insects make their nests. Not only are these insects a nuisance, but they also raise health and sanitary concerns. Treatments are friendly for children & pets and occur five times per season beginning in May and ending in September.
Landscape, Hyrdroseed, Irrigation
DeHamer did our landscape work, our irrigation, and hydroseed for our new home. They were very professional and did an amazing job. I give this company a 5 star rating and highly recommend using them for any of your landscaping needs.
New House Landscaping
We love our landscaping done by the DeHamer team. Our new house landscape design went smoothly and the results after a year are fantastic. Around our neighborhood, we can typically identify the lawns installed and maintained by DeHamer. They are excellent!
Pleasure to Work With
We moved into a home last fall that needed a lot of work on the yard. DeHamer was hired to do the entire project. They designed and installed the landscape around the entire house, created the patio space with fire place and landscaping around the beach area. We also had them lay new top soil and hydro seed the entire lawn. We are so happy with the results. Their team was a pleasure to work with, and we have gotten countless compliments on the results. We will happily use them in the future for any other landscaping needs.
Abbie, W.
Grandville, MI
Efficient, Hardworking, Kind.
From start to finish this was a great experience. A designer came to our house and drew up a concept that we loved. It gave me the ability to visualize what could be. This was the first thing that set DeHamer above other landscape companies we had reached out to. They gave me something I could picture. As we coordinated with other subcontractors we let DeHamer know our timing. They came on the earliest possible day that it would have worked for them to come. They were efficient and a hardworking kind crew that aimed to please.
Lyle, V.
Grand Rapids, MI
Highly Recommend
DeHamer is a truly exceptional lawncare service. The team is honest and forthright. Would recommend with great confidence.
Mitchell, M.
Hudsonville, MI
Highly Recommend Landscaping.
DeHamer was amazing from the beginning. I know nothing about landscaping and they, very patiently, helped me create a beautiful outdoors. DeHamer was communicative and responsive. Project was completed in the stated time frame and earlier in the month than expected. Their honesty saved me several thousand dollars. A retaining wall that we thought needed to be completely replaced only needed to be fixed. I highly recommend them for your landscaping needs.
Roberta, P.
Grandville, MI
Landscape Design, New Construction
We hired DeHamer Landscaping to do some pretty extensive work on our new home, which we moved into in January. Because it was a new construction project, we needed them to do all of the landscape design for our home. We have been really impressed with the level of service and communication from various people in the company. They just completed our project and we couldn't be more happy with the work they have done. I would happily recommend this company to anyone who is looking for a good landscaping company in the area.
Kami, K.
West Michigan
New Home Landscaping
I had a fantastic experience working with DeHamer Landscaping. I needed landscaping done at a new house that had no landscaping or yard yet. Wade and his team were great as they walked us through the process to select our materials, plants, and design. They handled everything from planting the trees and flowers, to installing a patio and retaining wall, to spraying Hydroseed. I couldn't be happier with how it turned out. I highly recommend DeHamer Landscaping to anyone looking for landscaping.
Stan, O.
Grand Rapids, MI
Tremendous Customer Service
The crew at DeHamer Lanscaping have all been a pleasure to work with! They are friendly, courteous and professional and landscaped our new home from scratch with retaining walls, stone walkways, new lawn, mulch, trees and shrubs. I couldn't be happier with their services and responsiveness, and the obvious pride that they demonstrate in their work. I recommend them to all of my new neighbors. Keep up the beautiful work and tremendous customer service guys!
The Entire Crew Was Fantastic!
The entire crew at DeHamer Landscaping was fantastic. Dustin came out to review my yard and hear the desires to re-do my existing landscaping. His 'game plan' was seen visibly and with a quote that met my expectations. They were always asking questions to make sure that what they were doing met my expectations! Making this decision as a single woman was made so easy because DeHamer Landscaping treated me upfront and fairly from the start of the project to the end. My yard is renewed and I LOVE IT ALL! Great Value, great staff, and a great outcome! I'll be spreading the word that they are an awesome company to use for any of your landscaping desires!
Cheryl, S.
Grandville, MI
Definitely Recommend
We have used DeHamer a couple times for landscaping needs and have been very happy both times. Very responsive during the quote and design process. Installation crews are great and do an excellent job. Definitely recommend.
They Do A Great Job
We've used DeHamer for a couple years now for snow removal and they do a great job. They listen well and respond appropriately whenever we have service modifications, questions, concerns or anything that needs to be addressed.
Great Service!
I have always had great service from the DeHamer Landscape Team. We use them for snow removal and yard maintenance. They take care of our property with professionalism and timely service.
Brandon, P.
West Michigan
Great Company. Great People.
Great company to work with. Great people. Owners care about thier employees and giving thier customers a great value.