With our team of experienced designers, estimators, and landscapers we are fully equipped to build your landscape to your exact specifications. Everything we do contributes to our #DeHamerDifference.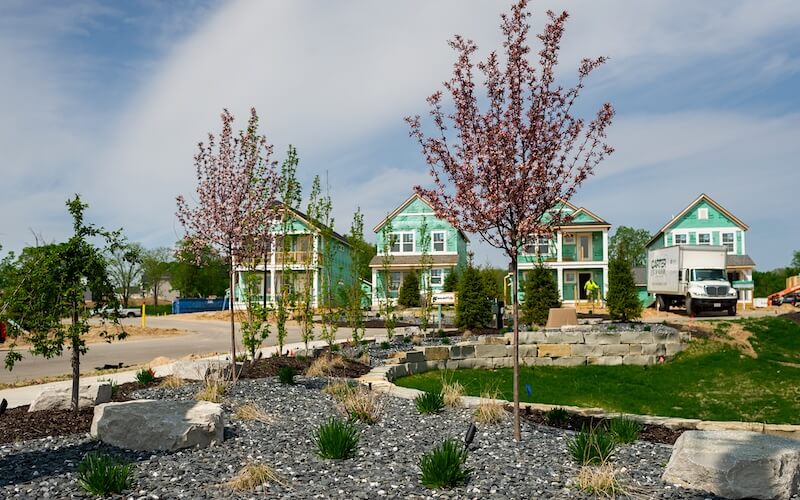 We take pride in our landscape designs, combining natural beauty with function and sustainability. Our dedicated professionals will work with you to create a personalized design for your project. We combine your desires with our expert advice to create a landscape that will enhance the look and value of your home.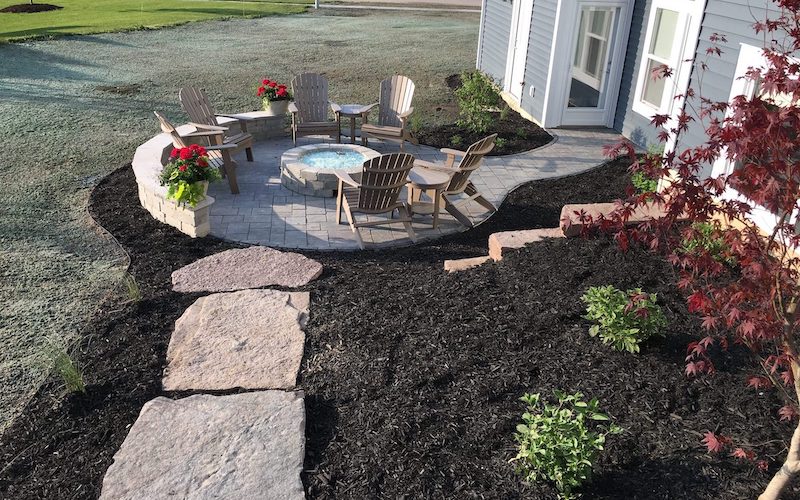 Giving your home the curb-appeal you're looking for is our passion. Using a variety of trees, shrubs, and perennials, in combination with different ground cover options, contours, stone, bark, edging and other features, we will install a landscape that will compliment your home and make your yard the envy of the neighborhood.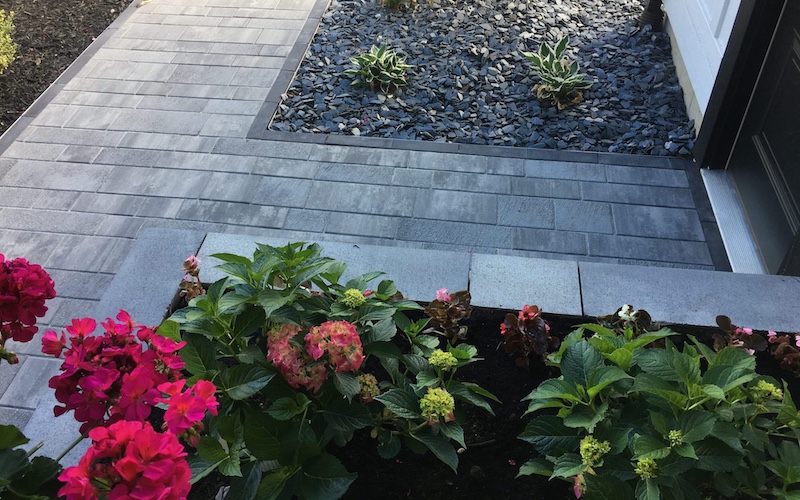 As the trend for more outdoor living space continues to grow, DeHamer Landscaping remains the most trusted company for the best products and advice for your hardscape needs. Whether you are looking for a new patio and fire pit to entertain the neighbors, or a retaining wall to maximize the potential of your property, we will help you decide the best way to utilize your space. DeHamer's experts are passionate about making your outdoor living dreams become a reality one brick at a time.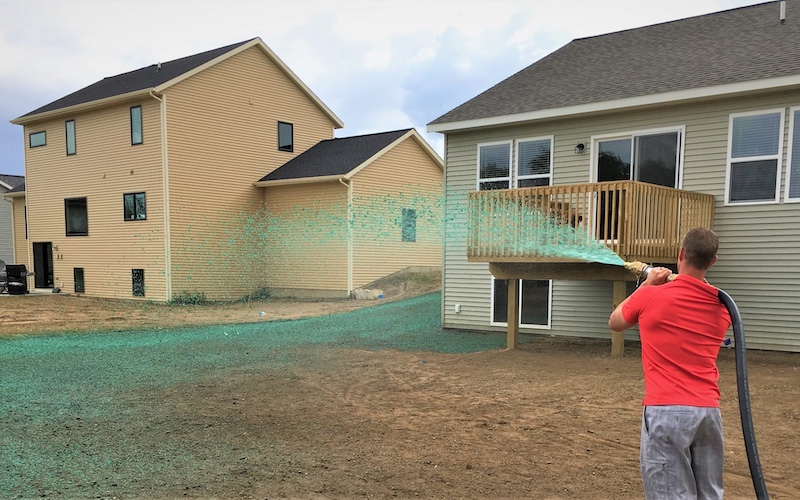 DeHamer offers you 2 options for installing your grass: Hydroseed and/or Sod. Hydroseed is the most cost effective and is a technique of spraying seed, an adhesion product, mulch and fertilizer on prepped soil to hold soil in place while awaiting germination of grass. Sod is rolls of grass that are installed in your yard like tile, and with proper water and care becomes a lush lawn.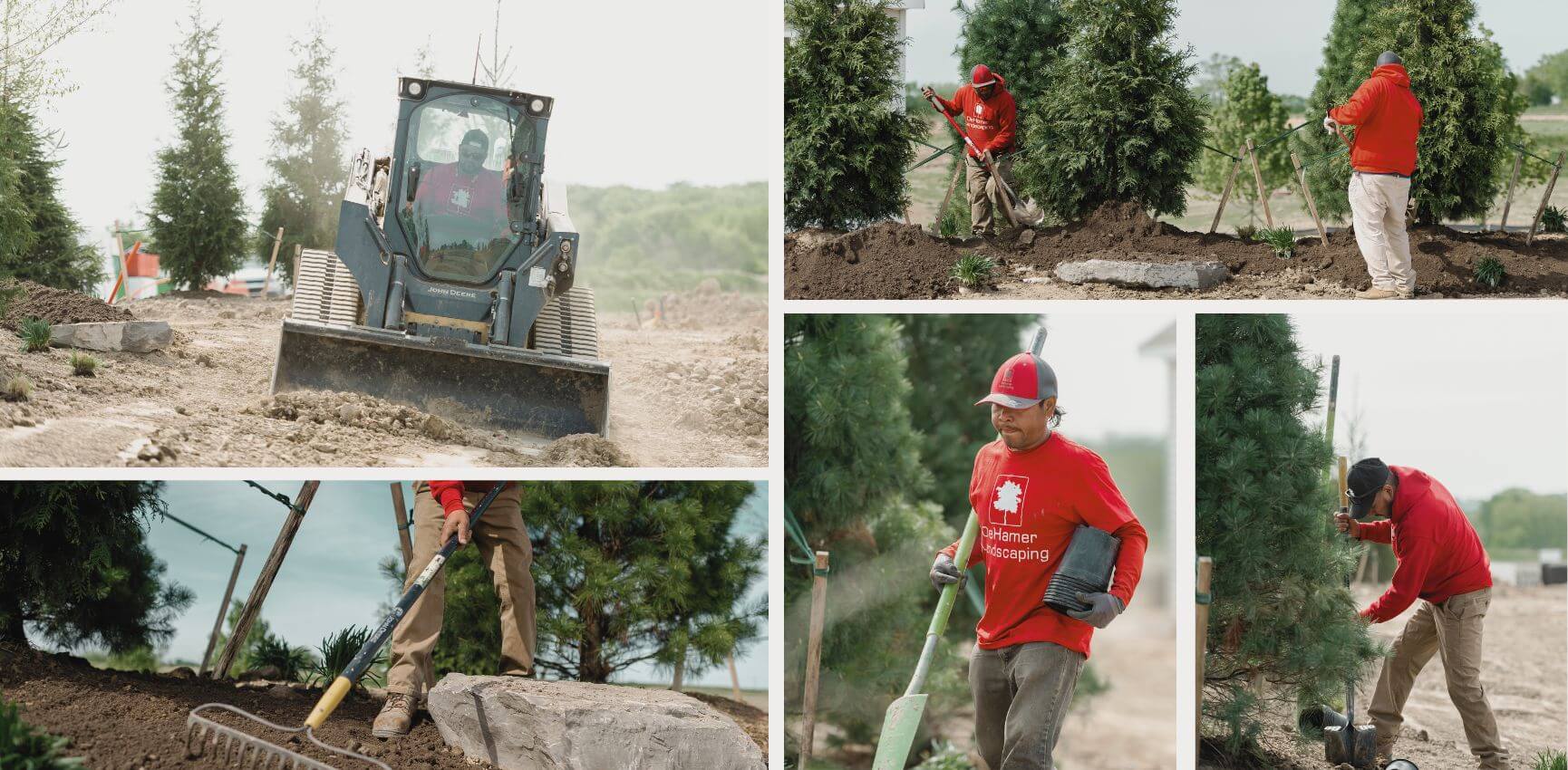 Landscape, Hyrdroseed, Irrigation
DeHamer did our landscape work, our irrigation, and hydroseed for our new home. They were very professional and did an amazing job. I give this company a 5 star rating and highly recommend using them for any of your landscaping needs.
New House Landscaping
We love our landscaping done by the DeHamer team. Our new house landscape design went smoothly and the results after a year are fantastic. Around our neighborhood, we can typically identify the lawns installed and maintained by DeHamer. They are excellent!
Pleasure to Work With
We moved into a home last fall that needed a lot of work on the yard. DeHamer was hired to do the entire project. They designed and installed the landscape around the entire house, created the patio space with fire place and landscaping around the beach area. We also had them lay new top soil and hydro seed the entire lawn. We are so happy with the results. Their team was a pleasure to work with, and we have gotten countless compliments on the results. We will happily use them in the future for any other landscaping needs.
Abbie, W.
Grandville, MI
Efficient, Hardworking, Kind.
From start to finish this was a great experience. A designer came to our house and drew up a concept that we loved. It gave me the ability to visualize what could be. This was the first thing that set DeHamer above other landscape companies we had reached out to. They gave me something I could picture. As we coordinated with other subcontractors we let DeHamer know our timing. They came on the earliest possible day that it would have worked for them to come. They were efficient and a hardworking kind crew that aimed to please.
Lyle, V.
Grand Rapids, MI
Highly Recommend
DeHamer is a truly exceptional lawncare service. The team is honest and forthright. Would recommend with great confidence.
Mitchell, M.
Hudsonville, MI
Highly Recommend Landscaping.
DeHamer was amazing from the beginning. I know nothing about landscaping and they, very patiently, helped me create a beautiful outdoors. DeHamer was communicative and responsive. Project was completed in the stated time frame and earlier in the month than expected. Their honesty saved me several thousand dollars. A retaining wall that we thought needed to be completely replaced only needed to be fixed. I highly recommend them for your landscaping needs.
Roberta, P.
Grandville, MI
Landscape Design, New Construction
We hired DeHamer Landscaping to do some pretty extensive work on our new home, which we moved into in January. Because it was a new construction project, we needed them to do all of the landscape design for our home. We have been really impressed with the level of service and communication from various people in the company. They just completed our project and we couldn't be more happy with the work they have done. I would happily recommend this company to anyone who is looking for a good landscaping company in the area.
Kami, K.
West Michigan
New Home Landscaping
I had a fantastic experience working with DeHamer Landscaping. I needed landscaping done at a new house that had no landscaping or yard yet. Wade and his team were great as they walked us through the process to select our materials, plants, and design. They handled everything from planting the trees and flowers, to installing a patio and retaining wall, to spraying Hydroseed. I couldn't be happier with how it turned out. I highly recommend DeHamer Landscaping to anyone looking for landscaping.
Stan, O.
Grand Rapids, MI
Tremendous Customer Service
The crew at DeHamer Lanscaping have all been a pleasure to work with! They are friendly, courteous and professional and landscaped our new home from scratch with retaining walls, stone walkways, new lawn, mulch, trees and shrubs. I couldn't be happier with their services and responsiveness, and the obvious pride that they demonstrate in their work. I recommend them to all of my new neighbors. Keep up the beautiful work and tremendous customer service guys!
The Entire Crew Was Fantastic!
The entire crew at DeHamer Landscaping was fantastic. Dustin came out to review my yard and hear the desires to re-do my existing landscaping. His 'game plan' was seen visibly and with a quote that met my expectations. They were always asking questions to make sure that what they were doing met my expectations! Making this decision as a single woman was made so easy because DeHamer Landscaping treated me upfront and fairly from the start of the project to the end. My yard is renewed and I LOVE IT ALL! Great Value, great staff, and a great outcome! I'll be spreading the word that they are an awesome company to use for any of your landscaping desires!
Cheryl, S.
Grandville, MI
Definitely Recommend
We have used DeHamer a couple times for landscaping needs and have been very happy both times. Very responsive during the quote and design process. Installation crews are great and do an excellent job. Definitely recommend.
They Do A Great Job
We've used DeHamer for a couple years now for snow removal and they do a great job. They listen well and respond appropriately whenever we have service modifications, questions, concerns or anything that needs to be addressed.
Great Service!
I have always had great service from the DeHamer Landscape Team. We use them for snow removal and yard maintenance. They take care of our property with professionalism and timely service.
Brandon, P.
West Michigan
Great Company. Great People.
Great company to work with. Great people. Owners care about thier employees and giving thier customers a great value.